WEIGHT-LOSS NEWSLETTER
Hello, my name is Marylou and I would like to share with you my experience with living a healthy life.
When I was in high school, my weight always fluctuated.. I was always on some sort of diet. Always losing some weight and regaining it back after a few months. After I graduated from high school is when I weighed the most, I had gained 12 more pounds. None of my clothes fit me, I was a size 14 and now needed size 16 clothes (waist size about 38). I felt emberrassed to be fat. I stopped going out. I did not want to be seen by anybody. I was unhappy.
I was out of high school and on my way to college. I had to do something...
I made a conscious decision to live a healthy life. I started taking the Shaklee Slim Plan, a nutritious shake 2 times per day, and I added Shaklee Protein to it. I knew that being this heavy might cause my skin to sag, so I also took Shaklee Vitamin C 500 mg, Shaklee Fiber Plan mix and tablets to help minimize my hunger during the day, and Lecithin to help absorb fat-soluble nutrients. Plus, lots of water during the day.
I started a work-out regimen. I would run 3 times per week and lift weights at the gym for 1 1/2 hours per day, 3-4 times per week. In as little as 3 months I started seeing results. I had lost 10 pounds. I was so motivated into losing more weight. In the past, after losing 10 pounds I would go back to my bad habits and gain all the weight back.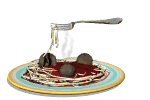 I was determined, I wanted to live a healthy life that I made the decision to become a vegetarian. This did not happen over night. First I eliminated red meat, 1 year later I eliminated chicken and sea foods. Since I was adding Shaklee Instant Protein to my Shaklee Slim Plan mix, I knew I was getting the needed nutrients for my body.
In order to lose weight, I don't think you need to become a vegetarian, but this was something I wanted to do for myself. Living healthy for me was now a way of life.
Within one year of this new way of life I had lost 25 lbs. By three years I had lost 40 lbs. It has now been 9 years and I'm still 40 lbs less. This road has not been easy. I will say that at times I would get lazy and stop working out and excessively eat "junk foods", but I have not gained back more than 10 pounds before I go back to my routine. I made the decision that I would live a healthy life and that is what has kept me going.
Being healthy full of energy is addicting. If you want to do those diets that guarantee a weight loss of 30 lbs in 30 days, 9 years down the road, in my opinion, you will not be able to say you have kept it off.
In order to keep my weight off, I do some sort of work out atleast 3 times per week and I still drink atleast one Shaklee Slim Plan and protein mix per day along with all my vitamins.
If you would like to have my success:
First, make the conscious decision to live a heatlhy life forever. You will need to start a work out regimen. Start out slow, don't burn yourself out. If you are one of those people who gets bored easily, vary your workouts. One day run, another day lift weights, walk, ride your bike, swim, etc. I started mountain biking. Vary your workout so you will enjoy it.
Second, first thing in the morning drink 24 oz of water, then drink a Shaklee Slim Plan (I add banana), with Shaklee protein and fiber mix. Drink your vitamins. Vitamin C, Lecithin, and Fiber tablets.
Snack in between meals, carrots, yogurt, fruits, etc., and drink more water.
For lunch, have another shake with your fiber tablets and atleast 8 oz of water. Sometimes I would replace this with a light salad. Variation was my key to success. I get bored easily.
For dinner, have lots of veggies (eat all the veggies you want), 4 oz piece of meat, and a starch. Drink water with your meals instead of soda or juice.

When deciding what you are going to eat try to make a healthy decision. Instead of having regular eggs have egg whites or egg beaters. Instead of drinking regular milk, drink fat free milk, or soy milk. Be careful with the diet foods because a lot of them contain aspertine.
I made the conscious decision to live a healthier life. I'm offering you this same opportunity.
I have included a before and after picture for you to see. The first picture where I am heavier was taken on my prom day. After graduation I gained 12 more pounds, but I could not find a picture to show you, I would hide from the cameras. The "after" picture was taken 8 years later, 40 lbs less, but recall that I had lost 25 lbs my first year.
Scroll Down to see before and after pictures.
To maintain my weight, I continue to drink my Shaklee Slim Plan once per day and I exercise atleast 3 times per week.
If you are interested in finding out more about the Shaklee Slim Plan Solution click below:
If you would like to contact me please e-mail me:

LuLuWilliams73@Yahoo.com

Thank you for reading my Newsletter.